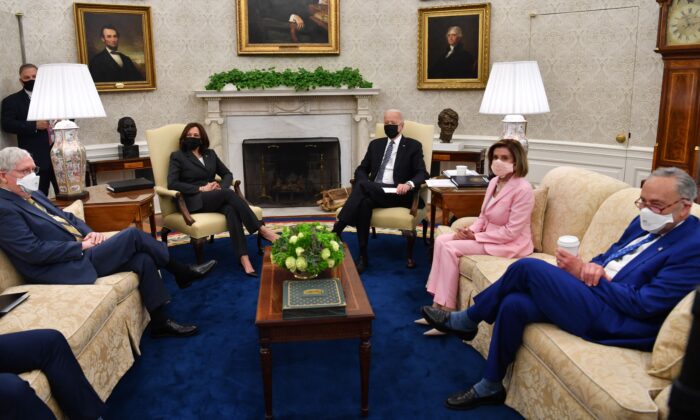 U.S. President Joe Biden (3rd R) and US Vice President Kamala Harris (L) meet with members of Congressional Leadership, including Senate Majority Leader Chuck Schumer (R), Speaker of the House Nancy Pelosi (2nd R) and Senate Minority Leader Mitch McConnell, to discuss policy areas of mutual agreement, in the Oval Office of the White House in Wash., on May 12, 2021.
A Gallup poll that asked respondents to rank their approval of major federal leaders found that Supreme Court Chief Justice John Roberts topped the list, while leaders like Senate Minority Leader Mitch McConnell (R-Ky.), Speaker of the House Nancy Pelosi (D-Calif.), and President Joe Biden took bottom place.
The poll asked Americans whether they approved or disapproved of the way that several federal leaders have been handling their job.
Leading the poll is Chief Justice John Roberts, a moderate George Bush-appointee who has been crucial in several major decisions handed down by the court. According to the poll, 60 percent of respondents said that they approved of Roberts' work while only 34 percent said that they disapproved.
Sitting beneath Roberts at 53 percent approval is Federal Reserve Chairman Jerome Powell, a Trump-appointee, who was recently reinstated to lead the Fed by Biden. Dr. Anthony Fauci was also shown to have the approval of a slight majority, with 52 percent of respondents saying that they had a favorable impression of the doctor-cum-bureaucrat; 47 percent, on the other hand, said that they disapproved of Fauci.
Other figures fared substantially worse in the public eye.
Most notably, McConnell, Pelosi, and Biden respectively bottomed out the list.
Only 43 percent of respondents thought Biden was doing well, while a majority of respondents, 51 percent, disapproved of Biden. While Vice President Kamala Harris has generally seen lower approval ratings than the president, this poll showed Harris slightly ahead of Biden, at 44 percent approval. However, Harris also received a substantially higher disapproval rating at 54 percent.
Below Biden is Pelosi with only 40 percent approval, while 58 percent of respondents disapproved of Pelosi. By comparison, opposition leader Kevin McCarthy (R-Calif.) fared better, with 46 percent of respondents reporting a favorable impression of the blue-state Republican and 49 percent disapproving.
By far the least popular on the list is Minority Leader Mitch McConnell. Only 34 percent of those surveyed said they approved of the longtime Republican leader. McConnell has publicly feuded with former President Donald Trump on several issues, alienating many would-be allies. On various issues, members of McConnell's caucus have expressed disagreement with their leader's decisions, as happened during the debate over the debt ceiling earlier in the year.
By comparison, Majority Leader Chuck Schumer fared significantly better. The poll showed that 44 percent of respondents approved of Schumer while 53 percent disapproved.
https://webhitlist.com/forum/topics/live-stream-free-hd-tv
https://www.mychemicalromance.com/news/hindi-dubbed-watch-spider-man-no-way-home-movie-3821466
https://www.lattepanda.com/topic-f5t35940.html
https://www.obec-kaliste.cz/uredni-deska/zadani-uzemniho-planu?r=1#post-280405
http://beterhbo.ning.com/profiles/blogs/how-to-watch-2021-online-live-streaming-3
https://caribbeanfever.com/photo/albums/hkgfjhfjhfh
https://todayusnews.cookpad-blog.jp/articles/686762
https://pastebin.fun/kf3wl0mdor
https://pastelink.net/l3hshkbf
https://tautaruna.nra.lv/forums/tema/47134-hindi-dubbed-watch-spider-man-no-way-home-movie/#_=_
https://todayusnews.cookpad-blog.jp/articles/686695
https://www.deviantart.com/full-movie4k/journal/Watch-Spider-Man-no-way-home-full-movie-reddit-901981878
https://www.deviantart.com/full-movie4k/journal/HINDI-DUBBED-WATCH-spider-man-no-way-home-Movie-901981044
https://www.deviantart.com/full-movie4k/journal/HD-Spider-Man-No-Way-Home-Free-Watch-Streaming-901981154
https://www.deviantart.com/full-movie4k/journal/Spider-Man-No-Way-Home-Full-HD-Available-For-Free-901981204
https://www.deviantart.com/full-movie4k/journal/Spider-Man-No-Way-Home-2021-Hindi-Dubbed-901981261
https://www.deviantart.com/full-movie4k/journal/Spider-Man-No-Way-Home-Hindi-dubbed-full-HD-901981335
https://www.deviantart.com/full-movie4k/journal/Spider-Man-No-Way-Home-2021-free-Hindi-Dubbed-901981393
https://www.deviantart.com/full-movie4k/journal/HINDI-DUBBED-WATCH-spider-man-no-way-home-Movie-901981443
https://www.deviantart.com/full-movie4k/journal/How-to-watch-and-stream-Spider-Man-No-Way-Home-901981493
https://www.deviantart.com/full-movie4k/journal/Spider-Man-No-Way-Home-2021-Full-Movie-Free-901981652